Are all open-plan offices a killer for the collaboration?
December 2021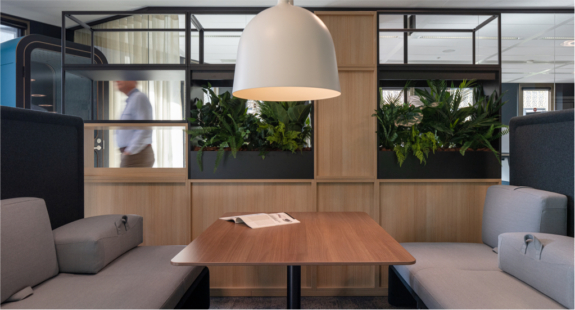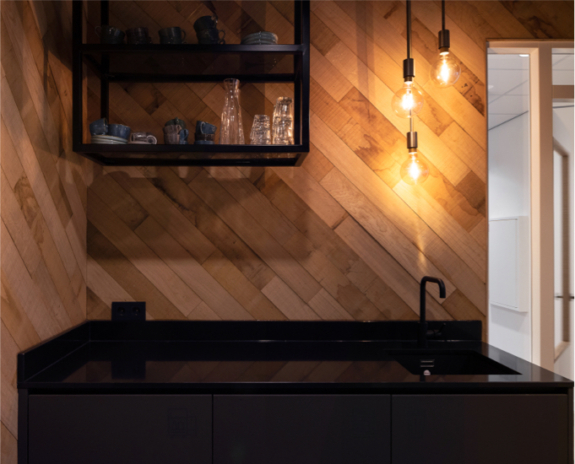 In the past, a table tennis table or a Friday afternoon drink could already be an attractive factor for talented people who were looking for a different kind of atmosphere at work. Today, expectations are much higher. Creating a great employee experience requires an in-depth understanding of what people need and how the workplace can best support them. A new study conducted by Harvard Business School adds to extensive research indicating that people seek workplaces that reflect their changing needs. There is no 'one-size-fits-all' approach to designing and furnishing workplaces.
Today, people easily switch employers. It is no longer just about the type of work, salary and status of the company. No, people are looking for a job that gives satisfaction. People ask themselves: Does the work I do make me happy? Do my employer and I have the same values? What do other people think about my work? People constantly mirror themselves and consider many factors when determining whether a job is the right one for them. This leads to a lot of job switching.
Headlines following a new Harvard study declare office gardens a killer for collaboration. But they need not be.
The most recent survey results show that when offices switched from screened spaces to open office gardens without screening, direct face-to-face collaboration decreased dramatically. Instead of talking to each other, people started using e-mail and instant messaging much more frequently.
The results of the study prompted headlines that labeled office gardens a "killer for collaboration" and "the stupidest management fad of all time. So what now? Should everyone go back to working in private offices?
A closer look at the study reveals that the researchers followed people as they transitioned from their assigned office cubicles to their assigned workstations in an open-plan office. In the new environment, all elements of privacy had been removed.
The researchers used wearable technology to observe how people interacted with each other. The new space was a monotonous attempt to bring people together. But instead of promoting collaboration, this form of an open office space did the exact opposite. Direct physical interaction dropped by 70 percent.
"Organizations should consider 'hybrid' or flexible spaces and optimize workplaces for the type of work people do there."
In an interview after this research was published, associate professor Ethan Bernstein drew some conclusions from his results. Among other things, he suggested that organizations should consider "hybrid or flexible spaces" within the open-plan office and, he indicated, they should optimize workplaces for the type of work people do there.
In a report on the study, Fast Company wrote, "Instead of a one-size-fits-all approach, as is common with open office garden design, work environments should offer a variety of options that support employees working effectively." The idea that people need a diverse range of spaces to meet their changing needs throughout the workday is something Steelcase researchers and designers have been advocating for years.
It's no secret that people often lament their open-plan offices – frustrated by a lack of spaces to choose from and of control over where they can get their work done. But it doesn't have to be that way!
So what do people want from the place where they work? A recent Steelcase survey of office workers around the world found that although 77 percent of people have their own workspace, the vast majority – 87 percent – spend two to four hours each day working in a different place.
And looking further, the survey showed that 53 percent of people say they can't find the spaces they need. More than half (51 percent) say they need the ability to escape from the same place over and over during their day, whether they are alone or with others.
The results are revealing. In addition to privacy and places to work together, people also seek informal, inspiring workplaces. They want to build deeper relationships with colleagues, and in addition, 43 percent of those surveyed think informal places can help build more trust. Good informal spaces offer views of nature, support informal interaction and provide access to visual and acoustic privacy.
"What is needed is a holistic approach that ensures the integration of the needs of people, place and technology."
Clearly, people need an ecosystem of spaces that support the different types of work they do in a day: places to collaborate, concentrate, learn, for social activities and to refuel. By paying attention to all of these needs, an office garden can accommodate all types of work performed by people. What is needed is a holistic approach that ensures the integration of the needs of people, place and technology.
With the intensity of work today, leaders expect more and more from their people. To work and create at a consistently high level, people's sustainable well-being must be considered. This requires:
Ergonomic support and comfort
Eliminate distractions so people can focus and collaborate undisturbed
Inspiration and the ability to refuel – make people feel better when they leave than when they arrive at work
When it comes to place, people need an ecosystem of spaces that support all modes of work: concentration, collaboration, learning, social activities and recovery. This must go hand in hand with:
Support for a wide range of postures and privacy options
Spaces that allow remote colleagues the experience of feeling and behaving as if they are also present in the space
Spaces that help team members stay present and focused
"By creating a workplace that brings together people, place and technology, organizations can give employees choice and control."
When people have a bad day with the technology needed for their activities, they have a bad day at work. They need all kinds of devices and spaces to share information. They also want easy-to-use technology that is smart and connected so that their ideas correspond with it seamlessly. Considerations for technology solutions include:
Collecting data so that organizations can understand what kind of spaces best support their people and so that those organizations adjust workplaces accordingly
Giving people access to data so they can find their colleagues and rooms quickly
Providing spaces designed so that the place helps people use technology more effectively and so that the technology makes the place better
By creating a workplace that brings people, place and technology together, organizations can give employees choice and control over where and how they work – something that is directly linked to high levels of engagement and satisfaction in the workplace. By putting people first, the office garden need not be a source of frustration. It can be a tool to help people and teams thrive.
Creating an inspiring environment for your employees
01
Offer choice and control
Give your employees the freedom to work where they want. By offering a wide range of spaces with different resources and atmospheres, they can perfectly adapt to the wants and needs they have at the time.
Create places where a person can and dares to be completely themselves. Light, materials, informal places and natural elements are powerful influences on the behavior and communication of an organization's brand and culture.
Don't forget a person's physical and emotional needs either. Good coffee and an offering of healthy food indicates that as an organization you prioritize an employee's well-being. WorkCafés and a bar give people the opportunity to meet in an informal way and get to know each other better. It's no secret that stronger interpersonal relationships can lead to better ideas and increase synergy and creativity within a team.
04
Give space to the best technology
Nowadays, it is very frustrating for an employee when technology fails them. It creates frustration and distraction because work is often largely dependent on technology within a company. Therefore, provide quality equipment that makes it easy to share information and ideas with each other.
Contact form
Can you use help? Contact us for more information or an extensive analysis of your working environment!