Service provided
Delivery and assembly of new furniture
A FLEXIBLE AND SUSTAINABLE INTERIOR
The new office of renewable factory reflects the sustainable identity of the company and translates this into an inspiring working environment with flexible spaces.
As an independent specialist in the development, realization and exploitation of renewable energy sources such as wind and solar, renewable factory has a clear vision of sustainable energy. They contribute to the transition to a world where renewable energy is the norm.
Purpose of the assignment; a dynamic working environment with an overarching, modern look that speeds up work processes and makes them more efficient. An environment that does not distract and in which flexibility in working, collaborating and meeting is facilitated as much as possible.
How renewable factory evaluates our work
"The new interior offers a good mix of spaces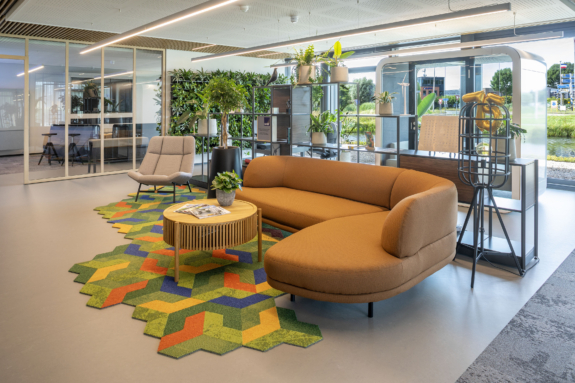 where visitors immediately experience who we are and what we do."
Ronald Kloet, CDO – Founding Partner at renewable factory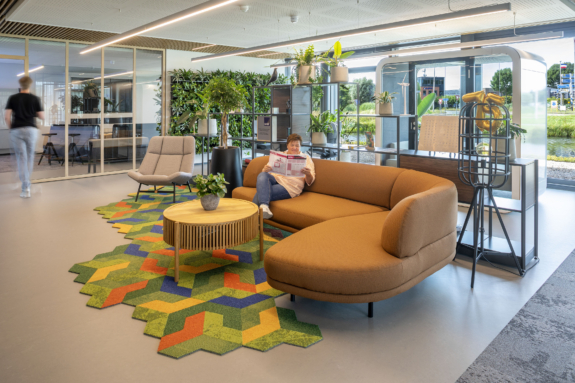 Our approach to achieve comfort and facilitate collaboration.
The new office is fully furnished according to the wishes of renewable factory. A flexible working environment has been created in which employees feel at home, can focus and encourage collaboration. Sustainability was an important topic in the design. Conscious choices have been made in the design and choice of furniture. Furniture made of recycled materials has been chosen that has a sustainability passport and has a long lifespan.
More about us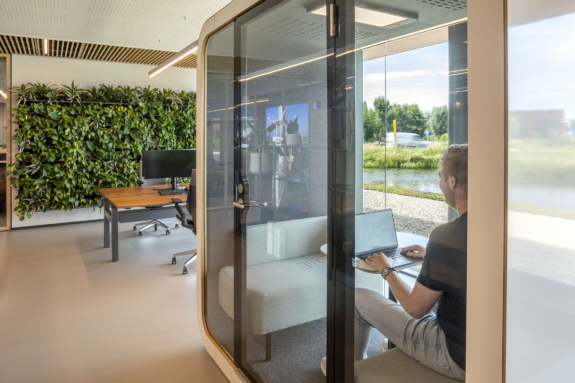 8
employees
2022
realization
275
scope
Our joint vision on collaboration
We are always critical and determined to get to know organizations and get to the core of the need.
The express wish was to create a sustainable office with good acoustics and a healthy indoor climate. An open environment with lots of glass, flexible spaces and an audiovisual set-up in which different work settings are possible.
The lunch and meeting area offers space for coming together, informal consultation and relaxation with one crystal-clear mission: meeting each other. The work zones are aimed at individual work and to work together effectively in teams.
For renewable factory, the customer is the absolute king. That is why we have invested as much as possible in a dynamic presentation space that is easy to personalize for customers in terms of furnishing and decoration. In this way, a space can be created in no time that feels like coming home to the customer.
Discover our approach
work