Fully unburdened; from design to completion
Design & Build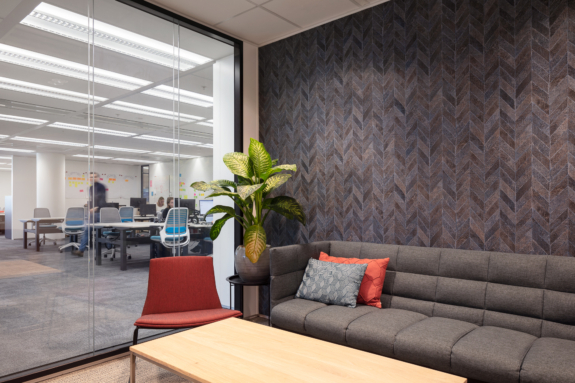 Employers and office users are facing many changes. Consider the tension between the employer's demand for more frequent office work and the employee's desire to do as much as possible at home. And will the work done in the office change in character and become more focused on meeting, conferencing and collaboration? Will everyone keep their own workspace or will we focus flexibly on the available workspaces?
Thorough approach
All these factors affect the overall design of the office. Because when questions like these arise, it's not enough to just buy better office chairs and new desks.
Then you look at the total design of the office, do research into the functions, work processes and spaces. Is the space about meeting and exchanging knowledge, focusing or relaxing?
In short, a thorough workplace strategy is needed, with which spaces optimally facilitate the functions. Then, of course, the furniture is important, but also anything that can enhance the function of that space. In which fresh and modern workplace concepts are applied, which offer more flexibility and fit the corporate culture.
Design & Build in 4 phases
Notice that your office is inhibiting rather than stimulating? Do your people prefer to work at home? Then maybe it's time for a metamorphosis. But where do you start? OCS+ helps you create a working environment that is worthwhile. From an initial introduction to your corporate culture to full realization including furniture and adoption by all your employees.
1.Empathize
Immersion in culture and organization
To arrive at a powerful initial concept, we first immerse ourselves in the core values, prevailing culture and employee behavior. We must understand these and make them "our own" in order to create sketches that immediately feel right and enhance employee movement.
2.Concept & Design
Co-creation in 2D, 3D and VR
From an initial sketch that provides insight into the functions of the new office, we move on to a 2D design and finally a 3D rendering in which you can walk through your new working environment yourself with VR glasses. Also in this phase, of course, we fully involve you as a client in the design process.
3.Build
From the first wall to the last accessories
Design & Build at OCS+ means that we take care of everything. We have the expertise, the contacts and the project experience to bring the most challenging projects to a successful conclusion. Correct planning is essential to ensure that the construction process runs efficiently. From the installation of walls, ceilings and all connections to the actual furnishing with furniture, lighting and decoration.
Consider the following:
– Removing floor coverings, ceilings, fixtures and walls from the building and having them taken to the appropriate parties for recycling;
– Moving electrical and water connections to the appropriate places;
– Put up new walls, install ceilings with connections for lighting in proper places, install carpeting;
– Paint or wallpaper walls and ceilings, install decorations and branding, install fixtures, hang lamps and supply accessories;
– Properly assemble and place furniture in the rooms. Here, of course, we pay attention to -where possible- reusing existing furniture.
4.Adopt
Employees must feel 100% at home
May sound like a formality, but for OCS+ 'adopt' is the most important phase in the process. Employees must feel 100% at home in their new environment and understand the functions of the various spaces. In doing so, we naturally provide the guidance and support needed to ensure the intended impact of the new office.
In short, in this way we fully and professionally answer the question, "Can you take care of everything for us?".
That is turn-key, that is our Design & Build service.
Contact
Want to know more about turnkey office design? We would be happy to tell you more about it in our Work Life in 's-Hertogenbosch during a first meeting without any obligation. Of course, a telephone consultation is also an option. Contact us at info@ocs.plus or 073 687 10 71.